Fire Detection Systems:
At Alert Fire we pride ourselves in quality service. We co-ordinate work with our customers and provide regular reliable on-site fire alarm maintenance and servicing.
Routine maintenance can be performed quarterly, by our certified team of Service Engineers, in accordance with the N.S.A.I Irish Standard for Fire Detection and Alarm in Ireland- I.S. 3218:2013.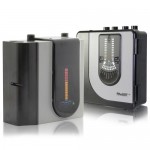 Analogue Addressable
Alert Fire can supply a range of addressable fire detection systems to meet design specifications. Recognized brands available include, Ziton, Morley, Advanced, Kidde, C-TEC and Kentec.
Conventional Systems
For small buildings, Alert Fire can provide a cost effective solution consisting of a conventional control and indicating panel and devices.
Advanced Detection:
For those special or difficult environments, Alert Fire can offer advanced detection as a solution. Examples would be:
High Sensitivity devices for IT and communication rooms,
Wireless radio equipment
Beam Detection
Multi Criteria devices for those areas where ambient conditions may cause un-wanted alarms.
Each advanced detection solution has its own unique characteristic's and uses:
– Air Sampling:
Air aspiration systems are available for high ceilings such as high bay warehouses, churches, shopping malls or moisture laden cold room warehouses. Also excellent for areas that need high sensitivity smoke detection such as computer rooms, IT rooms or clean rooms with high air movements.
Air aspiration Systems work by drawing air continually from the protected area into a pipe network and transporting it to a detector unit. Unique laser technology detects any smoke and measures it against alert and alarm thresholds programmed into a fire control panel.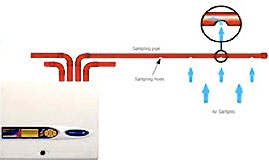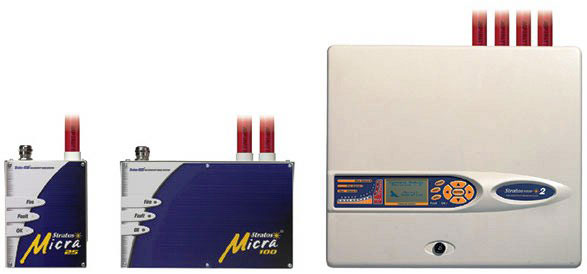 – Wireless
For those difficult to wire buildings or where rapid installation is required, Wireless Equipment will act as a solution.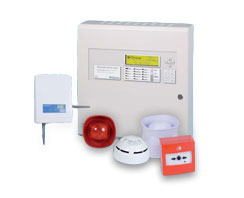 – Linear Heat Detection (LHD)
Linear heat detection provides early detection of fire conditions or overheating of equipment, plant or the surrounding area.
Linear heat detection cables are conventional heat detectors in a linear form. They sense heat anywhere along their length and are designed to be used in commercial and industrial applications.
Heat sensing cables can be used with or in place of conventional heat detectors or where conventional heat detection is expensive or difficult to install and maintain.